Brightcove Player Information Modal
In this topic you will learn how you can view player information from the Player Information Modal window.
View player information
You display the player information by right-clicking on the player and selecting Player Information, as shown in this screenshot.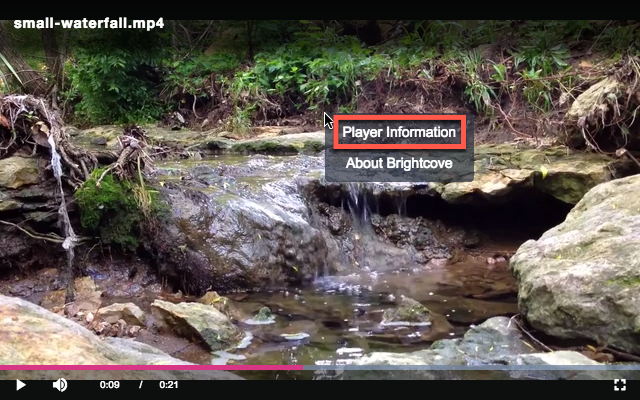 Once you select Player Information you will see the modal window containing information about the player, as shown in this screenshot.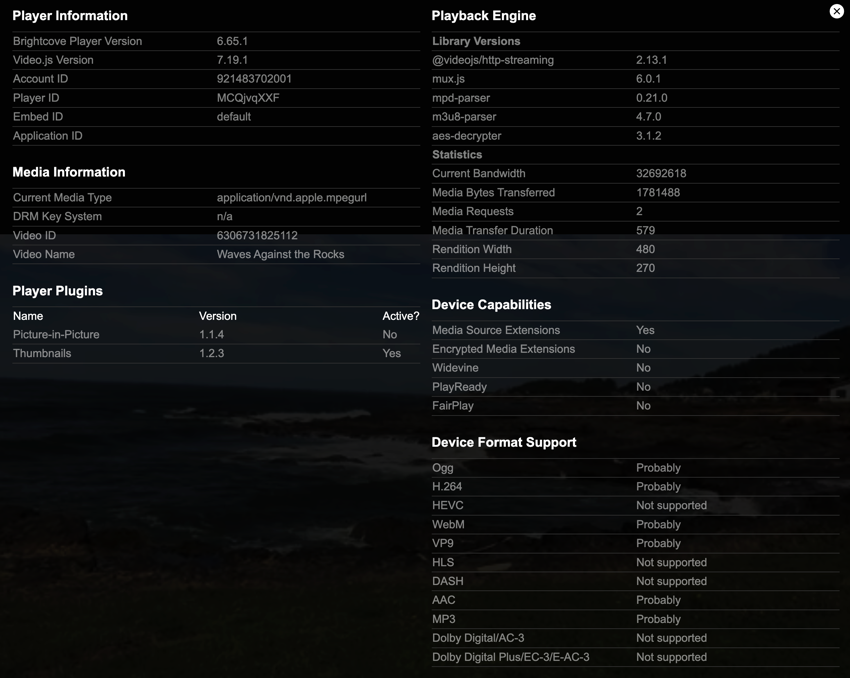 Close the modal window
You close the modal either pressing the ESC key or by clicking on the close icon at the top-left.

Alter the context menu
You can alter the menu that appears on right-click, called the context menu. To do this you must alter the configuration of your player. You can do this in two ways:
Using Studio's JSON Editor from the PLAYERS module.
A tool to perform the configuration change is curl.
The two changes you can make, and how to affect them, are shown here.
Prevent the menu appearing
If you wish to prevent the player information context menu from appearing at all, you can do one of the following:
Use the JSON Editor
Alter the player's configuration by adding the highlighted property (be sure to save the change):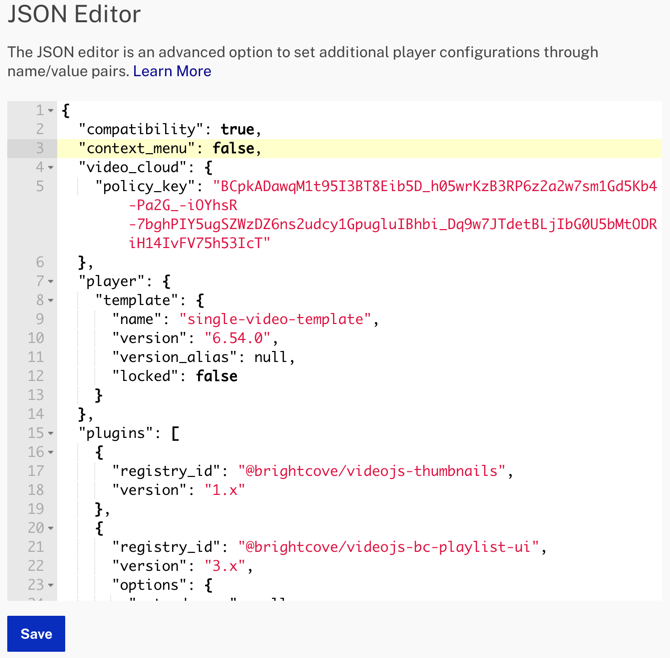 Use curl

curl \
  --header "Content-Type: application/json" \
  --user $EMAIL \
  --request PATCH \
  --data '{
      "context_menu": false
  }' \
  https://players.api.brightcove.com/v2/accounts/$ACCOUNT_ID/players/$PLAYER_ID/configuration
Prevent the Brightcove menu option
If you wish to prevent the About Brightcove menu option from appearing, you can do one of the following:
Use the JSON Editor
Alter the player's configuration by adding the highlighted property (be sure to save the change):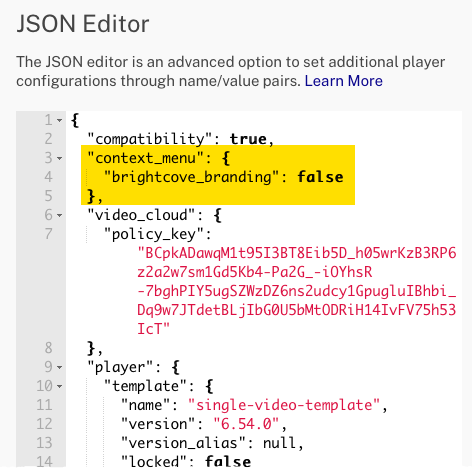 Use curl

curl \
  --header "Content-Type: application/json" \
  --user $EMAIL \
  --request PATCH \
  --data '{
    "context_menu": {
      "brightcove_branding": false
    }
  }' \
  https://players.api.brightcove.com/v2/accounts/$ACCOUNT_ID/players/$PLAYER_ID/configuration